February Is Pet Dental Month.
The American Veterinary Medical Association reports 80 percent of dogs and 70 percent of cats have some kind of oral disease by the age of 3.

Signs and Problems:
Your pet's teeth should be checked at least once a year by your veterinarian for early signs of a problem and to keep your pet's mouth healthy. Some signs your pet may show are bad breath, abnormal chewing, drooling, or dropping food, reduced appetite, and/or pain, bleeding, and swelling. Dental problems can arise due to broken, loose, or retained teeth, periodontal disease, abscesses or infected teeth, tumors, misalignment, broken jaw, or palate defects.
Periodontal Disease: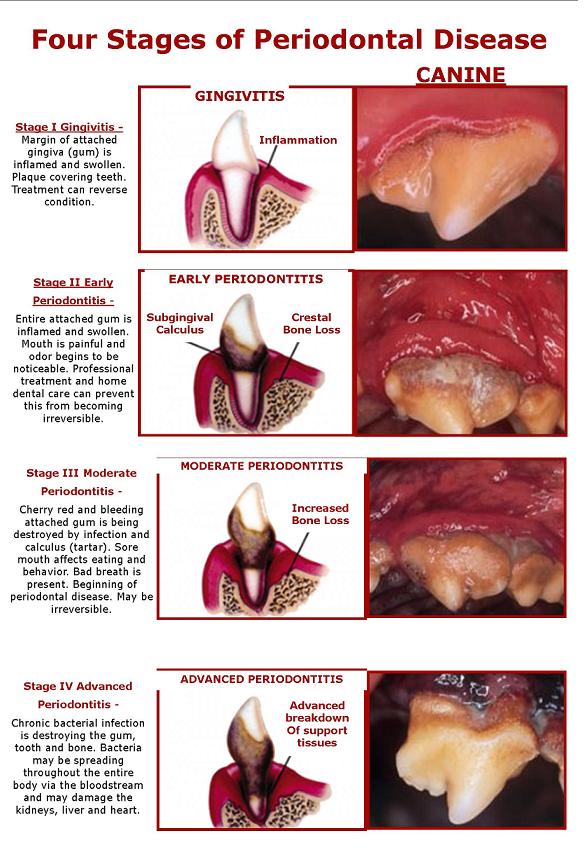 Periodontal disease is an infection of the tissue surrounding the teeth. Periodontal disease starts out as a bacterial film called plaque. The bacteria attaches to the teeth and when the bacteria die they can be calcified by calcium in saliva. This forms a hard, rough substance called tartar which allows more plaque to accumulate. Initially, plaque is soft and brushing or chewing hard food and toys can dislodge it. If left to spread plaque can lead to gingivitis (inflamed gums). As plaque and calculus develop below the gum line, professional cleaning will be needed to help manage it. If the plaque and tartar buildup continues without intervention, infection can form around the root of the tooth. In the final stages, the tissues surrounding the tooth are destroyed, the bony socket holding the tooth in erodes, and the tooth becomes loose.
What happens during the dental?
Pre-anesthetic exam: Your veterinarian will examine your pet to ensure it is healthy enough to go under general anesthesia. This examination may include blood or urine tests.
Anesthesia monitoring: When your pet is under anesthesia, its vital signs (body temperature, heart rate, blood pressure, and respiration) are monitored closely and recorded. This helps ensure your pet's safety while under anesthesia. Although anesthesia will always have risks, they are very low and are far outweighed by the benefits. Most pets can go home the same day of the procedure. Anesthesia makes it possible to perform the dental procedures with less stress and pain for your pet. It also allows for a better cleaning because your pet is not moving around and risking injury. It is not recommended to do dental cleanings without anesthesia because they do not allow cleaning or inspection below the gum line, where most dental disease occurs.
Dental radiographs: X-rays of your pet's teeth may be needed to evaluate oral health. They aid in confirming the need for tooth extraction when teeth are loose or badly infected.
Scaling and polishing: Veterinarians remove plaque and calculus from your pet's teeth. Polishing with a special paste smooths out scratches to the tooth enamel.
Fluoride/sealants: By applying a fluoride treatment the veterinarian helps strengthen and desensitize teeth and discourage the development of future plaque.
Homecare:
Regularly brushing your pet's teeth is the single most effective thing you can do to keep their teeth healthy between dental cleanings, and may reduce the frequency of dental cleanings needed by your veterinarian.
https://www.aaha.org/pet_owner/about_aaha/why_accreditation_matters/guidelines_position_statements/aaha_dental_care_guidelines_for_dogs_and_cats.aspx
http://dogtime.com/dog-health/dog-dental-care/17242-february-is-national-pet-dental-month
http://pawsitivitycomfortservices.ca/wp/wp-content/uploads/2016/02/dog-dental-grades.jpg
http://static.wixstatic.com/media/03d784_dd69bfabfc4e4698aa5b04d1d284650d.jpg
http://www.pvahosp.com/sites/site-1526/images/periodontaldz.jpg
http://vetncare.com/wp-content/uploads/2013/01/iStock_000020665887_Small.jpg